Classic bondage
THE ESSENTIAL ROPE HANDCUFF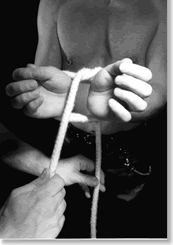 Use 2 metres long and 8mm thick. Wrap
the rope a couple of times around the wrists but don't pull
it tight. Then cross the rope around itself and pass the ends
between the wrists.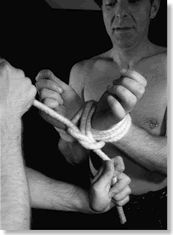 Wrap the rope a couple of times between
the wrists and use this to tighten the wrists together. The
handcuff should be snug and firm without being too tight.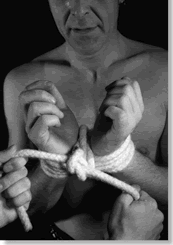 Finish it off with a double knot. Remember
to tie it under the wrists away from your subject's teeth.
So just what is this fascination with bondage? When did you
first get into it?
Remember getting turned on by those cowboy films? As a Top there's
that feeling of control. The watching them struggle – very sexy.
If it's you tied up there's that feeling of helplessness. The
struggle to get out, but not wanting it to end. In longer term
bondage there's the tension in the muscles, that ache and stiffness.
All great fun if it's done safely. Don't ask for a long and complicated
discussion on why we do it – it's just fun and very sexy and that's
all you need to know. Well almost…
The key issue in rope bondage is to watch for circulation problems.
The skin should never get cold or blue. This can lead to trapped
nerves or even loss of use if left restricted for too long. Watch
also for rope burns and chafing. The pain involved with these
often unintentional actions can stop a scene just as it gets started.
So be as careful at taking the rope off as you are at putting
it on.
The right materials
You can use almost anything to tie someone up but some things
are better than others. Your best silk ties work wonders but you
might not want to use them. Likewise wire or nylon string can
be pretty permanent once on but perhaps a little unwise. The best
things are those which don't come undone easily or are too thin
so that they cut into the skin. Soft nylon rope of about 1cm thickness
is ideal but then so is ordinary string or bootlaces. Rope comes
in all sorts of shapes and sizes so the choice is yours. A yacht
chandlers is an Aladdin's cave for bondage enthusiasts.
One essential thing to have handy with any bondage is a pair
of bandage scissors. These have a flat edge to get between the
skin and the material to cut. They are the safest way to cut anyone
out if they panic or undo that knot which has become just a little
too tight. Keep that Stanley knife secure in your tool box – it
has no place in a play room.
Heavy metal
If you are using metal as your method of restraint again watch
for chafing. Pad the encased limb if necessary and remember that
the metal is a lot stronger than the bone it surrounds. Make sure
the two don't bang against each other -broken bones are not sexy.
If you are using locks, keep the key to hand and be ready just
in case the Bottom panics. If you are into using lots of padlocks
consider buying a set that all use the same key. That way you
will avoid those embarassing fumbles in the dark.
Chain can be sexy just because of its weight and the fantasy
of jails and incarceration but the links can pinch the skin, so
watch out, especially if you are using it on sensitive parts of
the body.
DIY
If it's auto-bondage which turns you on be careful not to do
things up too tight and if you are locking things on keep the
keys within easy reach. Just because there has never been a fire
in your house so far doesn't mean it won't happen in the next
half an hour.
Classic advice
The captions give you some idea of classic bondage positions but in general how to tie people up can be governed purely by the safety rules and your imagination. Wrist to wrist is popular like handcuffs. Ankle to ankle the same. If you want to connect the two, do it with a separate piece of rope – it puts less strain on the various limbs. If this join is at the back it is called a 'hog-tie'. With this method watch for the breathing as the bottom will find a lot of their weight on their chest restricting the intake of air. Other permutations are up to you. A lot of bondage issues are common sense and with a little care all your scenes can be safe ones, its now up to you to make them all sexy.
Happy Bondage!
THE CLASSIC HOGTIE

It's simple really.
Create a rope handcuff around the wrists and then another around the ankles.
Then secure them together.